Social Media Ads Slides
ILCA thanks our member 617 Media Group for sharing an informative presentation on social media ads. Here are the slides from the April 1 webinar. Stay tuned for the next in our 2022 First Fridays Brown Bag lunch series.
Sponsored Content!
Call this ILCA's version of a pandemic pivot.
There was a mix-up with an electronic form, a piece of postal mail, and an advertisement destined for the 2021 commemorative journal. Due to an abnormality in these abnormal times, the ad didn't arrive before the virtual convention was held and the journal was published last week.
Pivoting to a different medium, ILCA hereby features a most wholesome piece of sponsored content. Use your imagination to place this ad in the journal.
Now use your eyes to view all the sponsorships and ads members placed in the journal. ILCA sincerely thanks you for your investment and display of support for our collective mission.
Gold sponsor
LIUNA – inside front cover
Silver sponsors
ILA – page 20
CWA Local 1180 – p. 24
Display advertisers
ALPA – p. 16
CSEA Local 1000 – p. 26
IAM – p. 8
IATSE – p. 10
IBEW Local 1245 – p. 30
PTE Local 17 – p. 32
SAG-AFTRA – p. 2
SIU – p. 32
St Louis Labor Tribune – p. 26
Teamsters Local 237 – this blog post
UFCW Local 400 – p. 28
UMWA – p. 34
Union Plus – p. 22
UUP – p. 28
2021 Convention Highlights
Thanks to everyone who participated in the December 2021 convention, which took place virtually following this agenda. Two ways to revisit the convention are to watch the keynote remarks by AFL-CIO President Liz Shuler and to read the commemorative journal. To connect with ILCA in 2022, subscribe to the ILCA newsletter and listserv and follow on Facebook, Twitter, and LinkedIn.
Panel Discussion on Labor and the Media
Panel Discussion: Labor and the Media: Labor Adapts its Message to Changing Media Environments
Thurs., May 20, 2021
7 p.m. ET
https://us02web.zoom.us/j/82000542861?pwd=YlNubW9iU1JUWXNHcjZGK1dVVlZSUT09
Meeting ID: 820 0054 2861
Passcode: 700045
Call-in numbers
Flyer
Panelists:
Dr. Brian Dolber, Assistant Professor of Communication, California State University, San Marcos; author of Media and Culture in the U.S. Jewish Labor Movement: Sweating for Democracy in the Interwar Era
Dr. Tobias Higbe, UCLA Labor Studies Chair and Associate Director of UCLA Institute for Research on Labor and Employment
Elana Levin, Director at New Media Mentors (Netroots Nation) and Co-Founder of Organizing 2.0
Organized by the New York Labor History Association and co-sponsored by ILCA, the Metro NY Labor Communications Council, United Hebrew Trades, the CUNY School of Labor and Urban Studies, and the New York Jewish Labor Committee.
Video Meeting Tips: How to Put Your Best Electronic Face Forward
Google and Facebook recently announced that employees will work from home until mid 2021. This confirms the intuitive sense that the remote situation isn't just a short-term emergency response. It will be a while.
Like it or not, online meetings are standard practice. Here are a few resources to make the most of the brave, new, digital-only meeting room.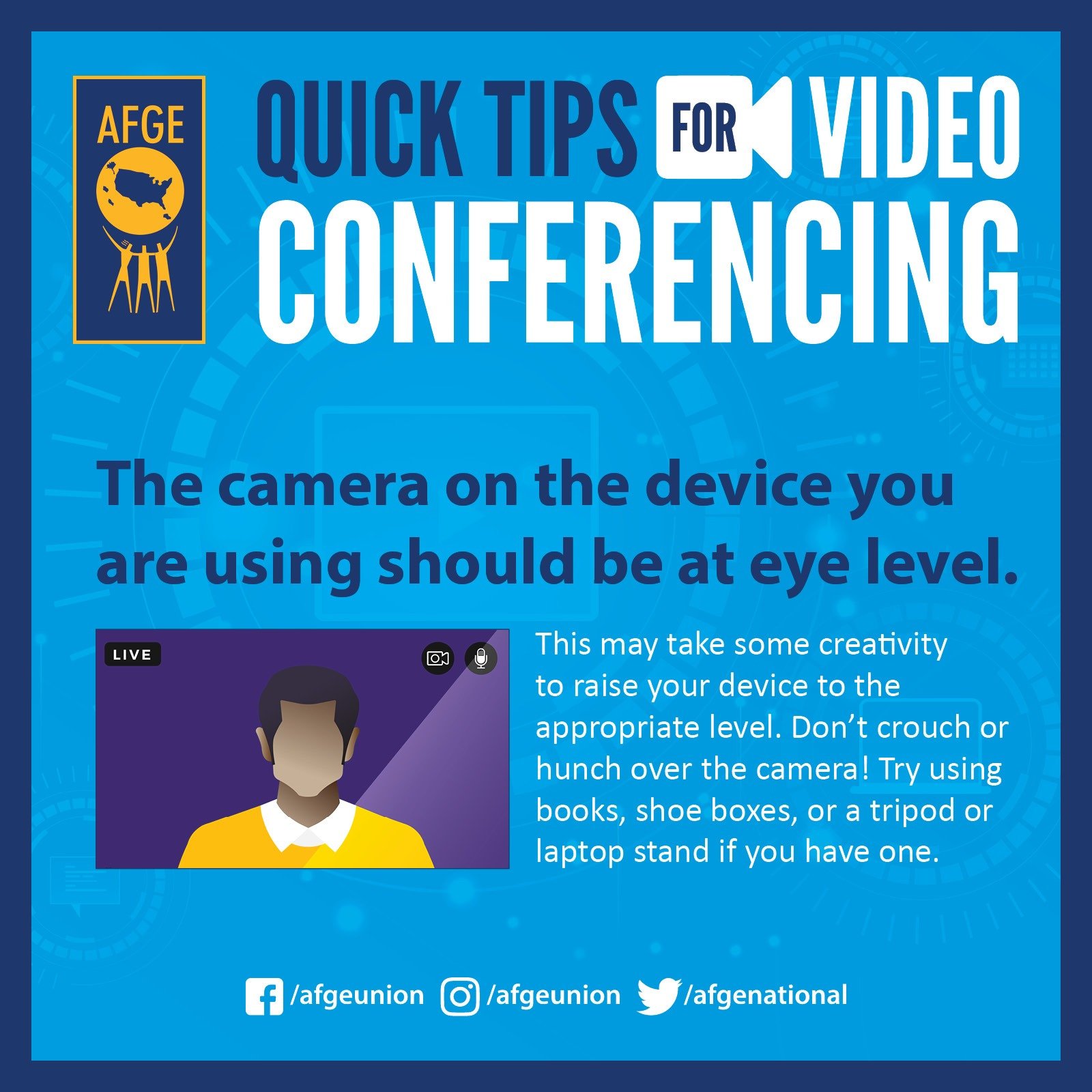 On its blog, AFGE presents 8 Video Conference Tips for Union Activists:
The camera on the device you are using should be at eye level
Generally speaking, you should be in a well-lit room with the lighting in front of you
Test before you go live
Double check your audio and internet connection before you get started
Look at the camera when you're talking
Position your notes closer to your camera lens
Select a neutral or complementary background for your video
Think about your outfit
The AFL-CIO conducted a training entitled Video Tools and Processes: Zoom, Interviews, and Editing. Use password Video123! to view the recording. Follow along with the slides.
Wired magazine explains How to Make Your Video Calls Look and Sound Better. The subhead alone contains some key guidance: "Natural light is your friend. Audio feedback is your worst enemy." Heed the tips so you're not that square on the Zoom meeting.
Crisis Communications Case Study: Power to the Postal People
Every labor communicator is responding to minute-by-minute changes in policies and practices affecting workers' livelihoods. ILCA members are challenged to process, manage and disseminate essential information to both internal and external audiences. Just by doing our work, labor communicators are producing real-time, textbook examples of crisis communications case studies. In this series, we're profiling national newsmakers who are amplifying labor's call to protect the physical and economic health of workers. We're looking at the strategies and tactics shaping their crisis communications to extract lessons and best practices that are proving effective in this demanding moment.
Unions: American Postal Workers Union and National Association of Letter Carriers
The situation: Every American knows that the United States Postal Service delivers medicine, paychecks and other essentials of life. What's more, postal employees are woven into the social fabric of the communities they serve. Residents see their familiar letter carriers delivering to households six or even seven days a week. Other job classifications are working in post offices, sorting facilities, and warehouses to route mail to the people depending on it. Workers and the public share the same interdependent goals – to uphold essential jobs and effective service delivery. The Postal Service is under unprecedented attack from the White House and corporate interests that want to see privatized postal delivery. As always, labor is fighting back, supported by allies from all walks of life.
Postal people speak: Postal employee unions are letting their members do the talking. On the NALC Heroes Delivering website, viewers can find videos of the union's paid ads featuring workers. And letter carriers are getting the message out in letters, op-eds and interviews in news stories around the country.
The campaign got a boost from the AFL-CIO communications shop, which produced this video featuring a letter carrier.
NALC is using its Twitter feed to spotlight its members, telling short stories about the socially beneficial and sometimes life-saving assistance that members lend to people in need.
The union also is posting news developments combined with a call to action.
Postal day of action: APWU took the lead to stage a Day of Action on June 23. It centered around a Washington, D.C., car caravan to deliver #SaveThePostOffice petitions to Congress.
Here's a short APWU video urging the public to lobby for postal service funding.
Here's an hourlong video of the APWU and allies delivering more than two million petition signatures to the Senate.
These videos and much more appear on the APWU's campaign page.
Celebrity endorsements: APWU enlisted the support of celebrities to advocate for the Postal Service.
Here's a public service announcement from actor Danny Glover, the son of two postal workers.
Page one: A letter carrier was profiled on A1 of the Sunday Los Angeles Times, among other small and large newspapers nationwide.
Communications strategies: NALC Communications Director Phil Dine summarizes the campaign status. "With the drop in letter mail volume resulting from the pandemic-caused economic shutdown, the Postal Service — which operates on earned revenue, not on taxpayer money — is feeling the impact, as are other sectors of the economy," Dine says. "Letter mail is the most profitable mail revenue stream and it has dipped significantly. As a result, temporary federal financial assistance during the pandemic is necessary for the Postal Service, as it is for other sectors of the economy. At the very time the Postal Service is facing this financial crisis, USPS is more necessary than ever, with letter carriers and other postal employees putting themselves at risk by doing their jobs so tens of millions of Americans can shelter at home and help bend the curve of the virus. NALC is letting Americans, and their elected representatives, know this by getting the word out through the news media."
Here are some of the ways APWU Communications Director Emily Harris has found success. In her words:
Getting stories: Putting a call out to our members for stories – and, more importantly, to the public for their stories of what the post office means to them (through our U.S. Mail Not For Sale lists) – was a great move. We were able to create exciting content to engage others and encourage calls to Congress. Many of the best stories became letters to the editor or op-eds in local papers, we had content trending well on social media, and were even able to identify people who would be good for other allied groups to speak to for their own content creation.
Go with the grassroots flow: The people love their Postal Service and the grassroots show of support in April after then-Postmaster General Megan Brennan testified to Congress about the financial crisis was wonderful to see. Stamp-purchasing campaigns started all around social media platforms and the hashtags #SavethePostOffice and #SavetheUSPS started trending. Numerous progressive groups started online petitions to Save the Post Office. We decided that instead of starting from scratch with new hashtags, we would work with what was happening organically. We engaged in conversations on Facebook and Twitter that if someone really wanted to #SavethePostOffice or "thank a postal worker," they should email their members of Congress and demand funding. Those choices led to instant engagement and sharing of our own content. It also led to unexpected allies in this fight moving forward.
Coordinating with allies – expected and unexpected: In the end, one communication shop can only do so much. It is with the added voice and power of our allies in the labor movement, the Grand Alliance to Save Our Public Postal Service, and other organizations that we are able to amplify our content. Thank you to the many ILCA members for their support! With the grassroots work going on by many organizations (mentioned above), we were able to join with a few unexpected allies. MoveOn.org and Ruralorganizing.org contacted us about specific messaging points around the Postal Service crisis, and from that we developed the joint petition delivery and live event presenting over two million petition signatures to Congress. That would not have been possible without MoveOn.org connecting with #Resistbot, Change.org, and other grassroots groups that had petitions. Another example is the Civil Rights Coalition communications listserv, which I am on. When someone asked if anyone knew about the USPS financial crisis, I jumped in offering to answer any questions. That led to valuable conversations and sharing talking points with numerous organizations, which then published their own content in line with those points.
Here are some of the ways the NALC's Dine has found success. In his words:
"We deliver the essential points to the public through the media. Among them: the U.S. Postal Service is based in the Constitution. It is by far the most popular federal agency, with more than 90 percent approval from Americans of all political views and in all regions, meaning that this is not a partisan issue. It earns its revenue by selling stamps and other products and services. It is critical for businesses, small and large, and for the elderly.
"USPS is a lifeline for rural communities and center of civic life for small towns. Through its universal network, it delivers to every home and address in the country for the same price, regardless of zip code. It is the centerpiece of the $1.3-trillion national mailing industry, which employs seven million Americans in the private sector. It is the largest employer of military veterans in the country, with nearly one-quarter of letter carriers and other postal employees wearing their second uniform.
"The USPS provides Americans with the most affordable postal services of any industrial country. On a daily basis, letter carriers notice fires, medical emergencies, missing children, crimes in progress, and traffic accidents. By stepping in or calling for help, letter carriers save lives.
"We regularly get these points (and, more broadly, the public's stake in all this) across in letters or commentary pieces in newspapers, from national papers to local ones; in print, television or radio interviews; or by informing reporters working on news stories. Biggest single key: talk directly to individual editors, producers or reporters; do not rely on press releases or emails. And tell them why they and their audience should care."
——
If you have a question for the communications strategists profiled here, please post a comment below or send it to info@ilcaonline.org. If you value this type of peer-to-peer learning, please support ILCA so we can continue to produce this series. Please renew your membership today and enter our annual Labor Media Awards contest.
IUPAT Job: Creative Content Producer/Social Media Manager
Position overview:
The International Union of Painters and Allied Trades is hiring a creative content producer to join our team and make a difference in the lives of working people. This person is responsible for implementing our multimedia storytelling strategy and works closely with other members of the communications team and staff to create compelling content that educates, inspires, engages and informs a broad range of audiences about our programs and campaigns. The ideal candidate will have a passion for social justice and is excited to use storytelling to simplify complex ideas and drive narrative change. The successful candidate will be responsible for creating original text and video content while managing the IUPAT's various social media platforms.
This position is based in our Hanover, MD office and will be supervised by the Communications Director.
Primary responsibilities:
Oversee all social media accounts of the IUPAT
Communicate and respond to followers in line with the shared vision of the IUPAT, and at the direct of the IUPAT Communications Director.
Design and implement social media goals at the direction of the Communication's Director, and aligned with the organization's vision.
Produce a range of video content for our website and social media channels as well as projects for our advocacy and campaign teams. This includes pitching, writing, and producing documentaries, scripted call-to action videos, motion graphic explainers, and other forms of media.
Provide data matrix and update to Communications Director as well as IUPAT Department Heads for the effectiveness of content.
Schedule and manage pre-production for shoots, story outlining, drafting questions, and conducting on-camera interviews and standups.
Edit video and audio projects that were filmed in the field from staff and partners.
Create digital collateral for social media, including static images, illustrations, and infographics
Shoot and edit photography content
Produce and/or edit audio stories for upcoming podcasts.
Work at the direction of the Communications Director to collaborate with teams and departments on social media content and strategy.
Monitor industry trends, and stay up to date with current technology to promote union awareness in a variety of ways that are unique within the labor movement.
Other duties as assigned
Qualifications:
Bachelor's degree and 2+ years of experience in professional journalism or documentary work.
Proficiency in Adobe Creative products (Premiere Pro, After Effects, Photoshop,); working knowledge of entire suite a plus.
Photographic and video proficiency (Experience with Canon C100 and DSLRs a plus).
A proven track record of managing productions and creating interesting video content.
Experience with video streaming platforms (vMix, ReStream, etc.)
Experience with audio production (set up for radio, podcasts, etc.).
Excellent communicator who has the ability to research and produce content under short deadlines on a range of topics and adjusting to a range of styles and voices.
Good research and fact-checking abilities.
Comfortable juggling multiple projects at a time and working in a fluid, fast-paced environment.
Experience with social media platforms and effective uses of Twitter and Facebook for campaigns and organizations.
Ability and desire to collaborate and establish rapport with staff, colleagues, and individuals from a wide variety of backgrounds.
Comfort in a team environment, and experience working in both a lead and support role.
Interest or experience in and knowledge of workplace and economic issues, labor, social justice, organizing, and/or progressive policy and advocacy issues.
Flexibility to travel as needed in the performance of duties.
How to apply:
Submit resume, relevant video/digital samples, references, and cover letter/letter of interest to jdoherty at iupat org.
The IUPAT is an affirmative action employer and strongly encourages people of color, women, l/g/b/t/q individuals, those with disabilities, and those with working-class backgrounds to apply.
Salary and benefits: The Creative Content Producer – Social Media Manager position offers a competitive salary, depending on experience. The IUPAT is an Equal Opportunity Employer and provides a competitive benefits package that includes paid vacation, medical, dental, retirement, and professional development benefits.
Crisis Communications Case Study: AFGE
Every labor communicator is responding to minute-by-minute changes in policies and practices affecting workers' livelihoods. ILCA members are challenged to process, manage, and disseminate essential information to both internal and external audiences. Just by doing our work, labor communicators are producing real-time, textbook examples of crisis communications case studies. In this new series, we'll profile national newsmakers who are amplifying labor's call to protect the physical and economic health of workers. We'll look at the strategies and tactics shaping their crisis communications to extract lessons and best practices that are proving effective in this demanding moment.
Union: American Federation of Government Employees (AFGE)
Communications Strategist: Andrew Huddleston, AFGE Communications Director and ILCA Executive Council member
The situation: "We represent 700,000 employees in 70 federal agencies, spread across the U.S. and around the globe," says Huddleston. "What we've done is pursue a strategy of rotating, targeted aggression among agencies. We're focused around a few simple, easy-to-understand central themes: Lack of proper PPE and testing, lack of proper telework and leave policies to accommodate workers, hiring freezes and resulting short-staffing and its impact on readiness and response, and the way anti-union actions by this administration have hampered the response to COVID-19. You may have also seen that we've sued the federal government for hazardous duty pay on behalf of all federal employees forced to expose themselves to the novel coronavirus.

"We began our initial response at Social Security and Customs and Immigration, where our early stories about telework pushed the Office of Personnel Management to issue stronger and stronger guidance. We moved to TSA, where we pressured the administration into providing N95 masks for TSOs. At the Bureau of Prisons, our media work helped stem the flow of inmate transfers throughout the country.
"We're pairing that media strategy with an internal communications strategy that includes daily email alerts and digital actions for our local leaders, weekly updates for our members specifically about coronavirus, p2p and mass texting, and a weekly email highlighting our media work so our members understand our level of visibility. We are also exploring options for a potential digital advertising buy."
In late April, AFGE targeted the Veterans Administration. In partnership with other unions representing VA workers, AFGE co-organized joint actions, letters, and statements.
Here are some media tactics AFGE used:
Rapid response press release to counter management claims
Rachel Maddow Show newsclip; Explains Huddleston, "It illustrates how all this is tying together. The night before this special report, she broke down an article from Government Executive that we placed and sent to her."
A daily newsletter which incorporated voices from all levels of the campaign. It quotes a frontline VA worker and features a compelling press clip. It highlights new online resources and includes a simple call to action that the reader can click to do.
AFGE created a COVID-19 microsite, which includes a resources page with animated educational videos that have more than 15,000 views.
Sometimes a populist meme sends just the right message.
As it continues to assess individual agencies, the union is reinforcing its principles for returning to work. Labor communicators are encouraged to follow AFGE's microsite and social media accounts for updates.
——
If you have a question for the communications strategist profiled here, please post a comment below or on Facebook. You can also send it to info@ilcaonline.org. If you value this type of peer-to-peer learning, please support ILCA so we can continue to produce this series. Please renew your membership today and enter our annual Labor Media Awards contest.
Unemployment Questions
•••
AFL-CIO COVID-19 Resources
Visit this AFL-CIO webpage for updated information and resources.