Summer 2021 Labor Media Contest Tutorial
ILCA is holding a webinar to introduce new and experienced members to the ILCA Contest. Learn best practices to enter and navigate the software. Take a moment to create an account and review the guidelines at the contest site. Then join us for a how-to webinar with #protips to enter successfully.
ILCA Labor Media Contest Tutorial
Monday, July 12, 2021
2 p.m. ET
Zoom yourself in
Meeting ID: 880 8127 3749
Passcode: 484809
Video Meeting Tips: How to Put Your Best Electronic Face Forward
Google and Facebook recently announced that employees will work from home until mid 2021. This confirms the intuitive sense that the remote situation isn't just a short-term emergency response. It will be a while.
Like it or not, online meetings are standard practice. Here are a few resources to make the most of the brave, new, digital-only meeting room.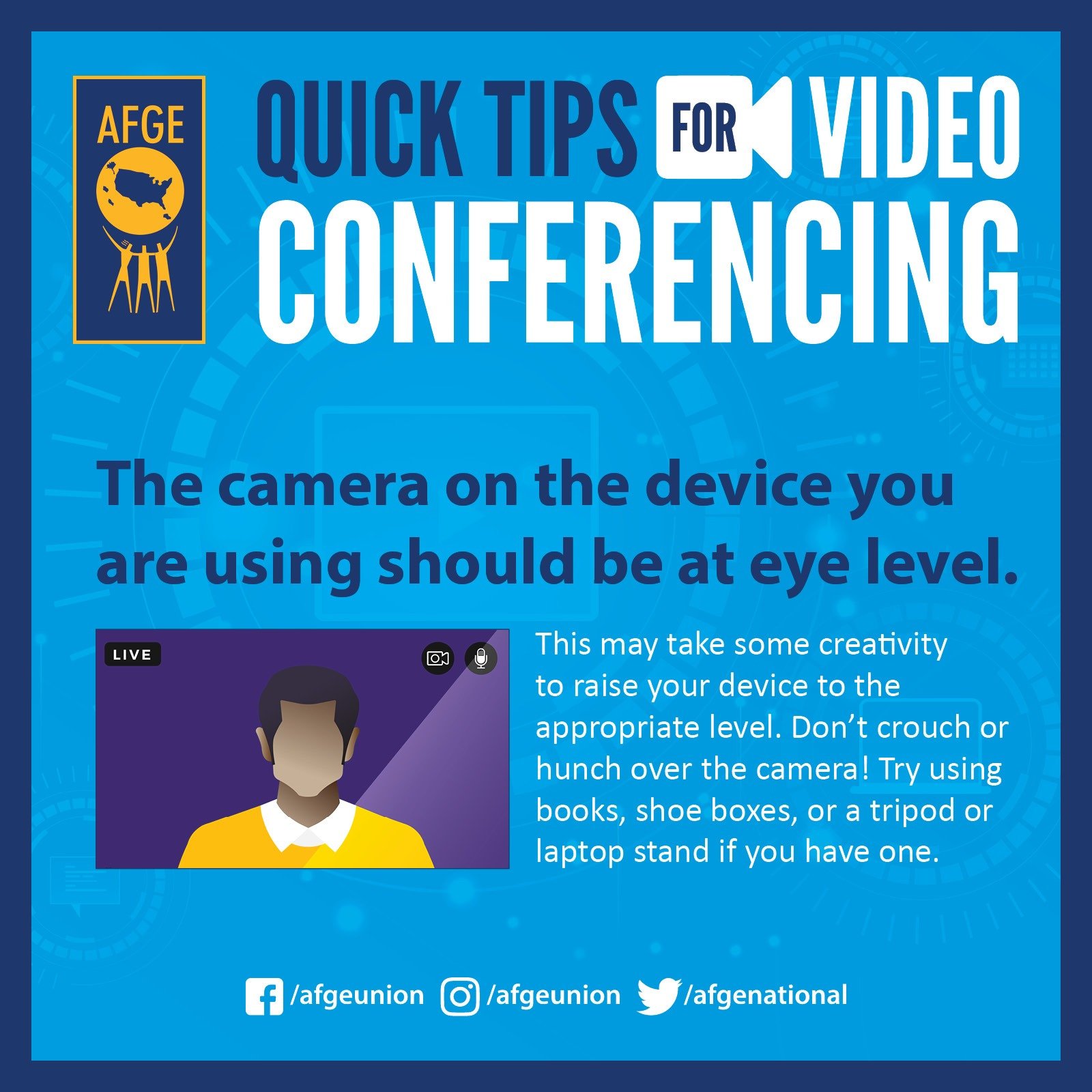 On its blog, AFGE presents 8 Video Conference Tips for Union Activists:
The camera on the device you are using should be at eye level
Generally speaking, you should be in a well-lit room with the lighting in front of you
Test before you go live
Double check your audio and internet connection before you get started
Look at the camera when you're talking
Position your notes closer to your camera lens
Select a neutral or complementary background for your video
Think about your outfit
The AFL-CIO conducted a training entitled Video Tools and Processes: Zoom, Interviews, and Editing. Use password Video123! to view the recording. Follow along with the slides.
Wired magazine explains How to Make Your Video Calls Look and Sound Better. The subhead alone contains some key guidance: "Natural light is your friend. Audio feedback is your worst enemy." Heed the tips so you're not that square on the Zoom meeting.
Crisis Communications Case Study: Power to the Postal People
Every labor communicator is responding to minute-by-minute changes in policies and practices affecting workers' livelihoods. ILCA members are challenged to process, manage and disseminate essential information to both internal and external audiences. Just by doing our work, labor communicators are producing real-time, textbook examples of crisis communications case studies. In this series, we're profiling national newsmakers who are amplifying labor's call to protect the physical and economic health of workers. We're looking at the strategies and tactics shaping their crisis communications to extract lessons and best practices that are proving effective in this demanding moment.
Unions: American Postal Workers Union and National Association of Letter Carriers
The situation: Every American knows that the United States Postal Service delivers medicine, paychecks and other essentials of life. What's more, postal employees are woven into the social fabric of the communities they serve. Residents see their familiar letter carriers delivering to households six or even seven days a week. Other job classifications are working in post offices, sorting facilities, and warehouses to route mail to the people depending on it. Workers and the public share the same interdependent goals – to uphold essential jobs and effective service delivery. The Postal Service is under unprecedented attack from the White House and corporate interests that want to see privatized postal delivery. As always, labor is fighting back, supported by allies from all walks of life.
Postal people speak: Postal employee unions are letting their members do the talking. On the NALC Heroes Delivering website, viewers can find videos of the union's paid ads featuring workers. And letter carriers are getting the message out in letters, op-eds and interviews in news stories around the country.
The campaign got a boost from the AFL-CIO communications shop, which produced this video featuring a letter carrier.
NALC is using its Twitter feed to spotlight its members, telling short stories about the socially beneficial and sometimes life-saving assistance that members lend to people in need.
The union also is posting news developments combined with a call to action.
Postal day of action: APWU took the lead to stage a Day of Action on June 23. It centered around a Washington, D.C., car caravan to deliver #SaveThePostOffice petitions to Congress.
Here's a short APWU video urging the public to lobby for postal service funding.
Here's an hourlong video of the APWU and allies delivering more than two million petition signatures to the Senate.
These videos and much more appear on the APWU's campaign page.
Celebrity endorsements: APWU enlisted the support of celebrities to advocate for the Postal Service.
Here's a public service announcement from actor Danny Glover, the son of two postal workers.
Page one: A letter carrier was profiled on A1 of the Sunday Los Angeles Times, among other small and large newspapers nationwide.
Communications strategies: NALC Communications Director Phil Dine summarizes the campaign status. "With the drop in letter mail volume resulting from the pandemic-caused economic shutdown, the Postal Service — which operates on earned revenue, not on taxpayer money — is feeling the impact, as are other sectors of the economy," Dine says. "Letter mail is the most profitable mail revenue stream and it has dipped significantly. As a result, temporary federal financial assistance during the pandemic is necessary for the Postal Service, as it is for other sectors of the economy. At the very time the Postal Service is facing this financial crisis, USPS is more necessary than ever, with letter carriers and other postal employees putting themselves at risk by doing their jobs so tens of millions of Americans can shelter at home and help bend the curve of the virus. NALC is letting Americans, and their elected representatives, know this by getting the word out through the news media."
Here are some of the ways APWU Communications Director Emily Harris has found success. In her words:
Getting stories: Putting a call out to our members for stories – and, more importantly, to the public for their stories of what the post office means to them (through our U.S. Mail Not For Sale lists) – was a great move. We were able to create exciting content to engage others and encourage calls to Congress. Many of the best stories became letters to the editor or op-eds in local papers, we had content trending well on social media, and were even able to identify people who would be good for other allied groups to speak to for their own content creation.
Go with the grassroots flow: The people love their Postal Service and the grassroots show of support in April after then-Postmaster General Megan Brennan testified to Congress about the financial crisis was wonderful to see. Stamp-purchasing campaigns started all around social media platforms and the hashtags #SavethePostOffice and #SavetheUSPS started trending. Numerous progressive groups started online petitions to Save the Post Office. We decided that instead of starting from scratch with new hashtags, we would work with what was happening organically. We engaged in conversations on Facebook and Twitter that if someone really wanted to #SavethePostOffice or "thank a postal worker," they should email their members of Congress and demand funding. Those choices led to instant engagement and sharing of our own content. It also led to unexpected allies in this fight moving forward.
Coordinating with allies – expected and unexpected: In the end, one communication shop can only do so much. It is with the added voice and power of our allies in the labor movement, the Grand Alliance to Save Our Public Postal Service, and other organizations that we are able to amplify our content. Thank you to the many ILCA members for their support! With the grassroots work going on by many organizations (mentioned above), we were able to join with a few unexpected allies. MoveOn.org and Ruralorganizing.org contacted us about specific messaging points around the Postal Service crisis, and from that we developed the joint petition delivery and live event presenting over two million petition signatures to Congress. That would not have been possible without MoveOn.org connecting with #Resistbot, Change.org, and other grassroots groups that had petitions. Another example is the Civil Rights Coalition communications listserv, which I am on. When someone asked if anyone knew about the USPS financial crisis, I jumped in offering to answer any questions. That led to valuable conversations and sharing talking points with numerous organizations, which then published their own content in line with those points.
Here are some of the ways the NALC's Dine has found success. In his words:
"We deliver the essential points to the public through the media. Among them: the U.S. Postal Service is based in the Constitution. It is by far the most popular federal agency, with more than 90 percent approval from Americans of all political views and in all regions, meaning that this is not a partisan issue. It earns its revenue by selling stamps and other products and services. It is critical for businesses, small and large, and for the elderly.
"USPS is a lifeline for rural communities and center of civic life for small towns. Through its universal network, it delivers to every home and address in the country for the same price, regardless of zip code. It is the centerpiece of the $1.3-trillion national mailing industry, which employs seven million Americans in the private sector. It is the largest employer of military veterans in the country, with nearly one-quarter of letter carriers and other postal employees wearing their second uniform.
"The USPS provides Americans with the most affordable postal services of any industrial country. On a daily basis, letter carriers notice fires, medical emergencies, missing children, crimes in progress, and traffic accidents. By stepping in or calling for help, letter carriers save lives.
"We regularly get these points (and, more broadly, the public's stake in all this) across in letters or commentary pieces in newspapers, from national papers to local ones; in print, television or radio interviews; or by informing reporters working on news stories. Biggest single key: talk directly to individual editors, producers or reporters; do not rely on press releases or emails. And tell them why they and their audience should care."
——
If you have a question for the communications strategists profiled here, please post a comment below or send it to info@ilcaonline.org. If you value this type of peer-to-peer learning, please support ILCA so we can continue to produce this series. Please renew your membership today and enter our annual Labor Media Awards contest.
Crisis Communications Case Study: AFGE
Every labor communicator is responding to minute-by-minute changes in policies and practices affecting workers' livelihoods. ILCA members are challenged to process, manage, and disseminate essential information to both internal and external audiences. Just by doing our work, labor communicators are producing real-time, textbook examples of crisis communications case studies. In this new series, we'll profile national newsmakers who are amplifying labor's call to protect the physical and economic health of workers. We'll look at the strategies and tactics shaping their crisis communications to extract lessons and best practices that are proving effective in this demanding moment.
Union: American Federation of Government Employees (AFGE)
Communications Strategist: Andrew Huddleston, AFGE Communications Director and ILCA Executive Council member
The situation: "We represent 700,000 employees in 70 federal agencies, spread across the U.S. and around the globe," says Huddleston. "What we've done is pursue a strategy of rotating, targeted aggression among agencies. We're focused around a few simple, easy-to-understand central themes: Lack of proper PPE and testing, lack of proper telework and leave policies to accommodate workers, hiring freezes and resulting short-staffing and its impact on readiness and response, and the way anti-union actions by this administration have hampered the response to COVID-19. You may have also seen that we've sued the federal government for hazardous duty pay on behalf of all federal employees forced to expose themselves to the novel coronavirus.

"We began our initial response at Social Security and Customs and Immigration, where our early stories about telework pushed the Office of Personnel Management to issue stronger and stronger guidance. We moved to TSA, where we pressured the administration into providing N95 masks for TSOs. At the Bureau of Prisons, our media work helped stem the flow of inmate transfers throughout the country.
"We're pairing that media strategy with an internal communications strategy that includes daily email alerts and digital actions for our local leaders, weekly updates for our members specifically about coronavirus, p2p and mass texting, and a weekly email highlighting our media work so our members understand our level of visibility. We are also exploring options for a potential digital advertising buy."
In late April, AFGE targeted the Veterans Administration. In partnership with other unions representing VA workers, AFGE co-organized joint actions, letters, and statements.
Here are some media tactics AFGE used:
Rapid response press release to counter management claims
Rachel Maddow Show newsclip; Explains Huddleston, "It illustrates how all this is tying together. The night before this special report, she broke down an article from Government Executive that we placed and sent to her."
A daily newsletter which incorporated voices from all levels of the campaign. It quotes a frontline VA worker and features a compelling press clip. It highlights new online resources and includes a simple call to action that the reader can click to do.
AFGE created a COVID-19 microsite, which includes a resources page with animated educational videos that have more than 15,000 views.
Sometimes a populist meme sends just the right message.
As it continues to assess individual agencies, the union is reinforcing its principles for returning to work. Labor communicators are encouraged to follow AFGE's microsite and social media accounts for updates.
——
If you have a question for the communications strategist profiled here, please post a comment below or on Facebook. You can also send it to info@ilcaonline.org. If you value this type of peer-to-peer learning, please support ILCA so we can continue to produce this series. Please renew your membership today and enter our annual Labor Media Awards contest.
2019 Convention Highlights
Thanks to everyone who made the 2019 convention a great success.
We gained knowledge and changed our perspectives in ways large and/or small. Here are some summaries of the Nov. 14-15 events.
Hearty congratulations to the award winners. To spread or replicate the pride, order duplicate awards here.
Going Live
ILCA Executive Council member DeLane Adams interviewed President Lisa Martin on the Machinists daily live news show. View the Oct. 16 segment about ILCA, our convention, and our member-powered organization sustained by you. This video is the full broadcast. President Martin is the first guest and appears at the beginning. Alternatively, you can view this snippet to jump right to the interview.
Announcing the 2019 ILCA Convention
Yes, there is still time to register!

INTERNATIONAL LABOR COMMUNICATIONS ASSOCIATION CONVENTION
Tommy Douglas Conference Center, Silver Spring, Md.
November 14-15, 2019
AGENDA (as PDF)
Thursday, November 14
8-9 a.m. Registration
9-9:15 a.m. Welcome and Opening of ILCA Convention, Lisa Martin, ILCA President
9:15-10:15 a.m. Keynote Address: Carla Murphy
Essayist and author of Why We Need a Working-Class Media, Murphy will share a personal and populist perspective about how to find power from the socio-economic margins.
10:15-10:30 a.m. Break
10:30-11:45 a.m. Plenary: Changing the Narrative and Going on the Offensive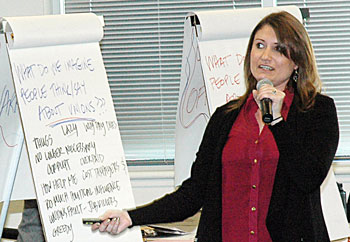 Developed by the California Labor Federation, Change the Narrative is a proven initiative based on a wall-to-wall rethinking of how unions and workers are described, perceived, and depicted in popular discourse. What happens when we replace the word "union" with the phrase "working people standing together?" Take a look. Under the leadership of ILCA Executive Council member Rebecca Band (pictured), this session will illustrate how to change the narrative to alter perception in workers' favor.
11:45 a.m.-1 p.m. Lunch Break
Breakout Workshops
Choose from concurrent sessions
1-2:30 p.m.
Starting and Jump-Starting Your Social Media
Chauncey Robinson of People's World will cover the basics of social media – from how to get started to tips, guidance, and dos and don'ts.
Communicating to Win Elections
Leaders of the St. Louis Workers' Education Society will discuss how they built a labor-community coalition that successfully defeated anti-worker legislation. Allies from outside of labor joined the coalition and campaigned alongside trade unionists to oppose a Missouri right-to-work bill. The workshop will examine the tactics used to form, sustain, grow, and strengthen the type of coalition that's often glorified on paper and much harder to execute in practice.
Strategic Media Outreach: Effectively Working with Reporters
Nora Loreto of the Canadian Association of Labour Media will facilitate a role-play exercise on interacting with the media and being interviewed by a reporter. Participants will learn how to respond strategically to questions to best represent your union as a media spokesperson.
2:45-4:15 p.m.
From a Like to a Leader: Real Online-to-Offline Organizing
Concerted Action strategists Christian Norton and Kelcie Glass will help you understand that using social media to move your message isn't enough to build a movement. Learn how to proactively find new supporters using ads, how to use social media to build a community, and how to build an online-to-offline pipeline to connect individuals with organizers, advocates, and campaigns. Convert likes and ad clicks into activists and members and develop the leading presence to achieve your real-world goals.
Introduction to Producing Videos
The Machinists Union staff includes a number of expert videographers, who will introduce attendees to video production. Your smartphone is the entry-level equipment required to get started, meaning it doesn't take a big investment in hardware to make basic videos. Learn to record with phones and video cameras to produce multimedia messages that capture attention.
Growing Email Lists and Publishing Electronic Newsletters
Elana Levin of New Media Mentors/Organizing 2.0 will share guidance on the best tools and techniques to grow your audience and amplify your reach. Learn how to harness the power of petitions, field organizing, and in-person events to grow your email list. Then get tips on publishing quality content that keeps your subscription list healthy.
4:30-6 p.m. Hosted Happy Hour sponsored by Concerted Action. Come sundown, let's raise a glass to our collective resilience.
Friday, November 15
9-10:30 a.m. Plenary: Organizing and Messaging to Combat Wage Theft
A diverse Minneapolis coalition of civil-rights groups, trade unionists, and workers' advocacy organizations united to expose the plight of low-wage workers who fell victim to employers' wage theft. The coalition was the driving force behind anti-wage-theft legislation that both the city and state enacted this year. ILCA Executive Council member Howard Kling coordinated the coalition and documented its success through a series of Workday Minnesota videos. The plenary will feature a panel discussion with two leaders of the successful coalition, SEIU Minnesota State Council Communications Director Josh Keller and Susan Kikuchi, a former organizer at the Centro de Trabajadores Unidos en Lucha. Panelists will discuss the communications and outreach strategies they used to organize multiracial, multilingual stakeholders to defend the interests of working families.
10:30-11:30 a.m. Breakout Workshops
Choose from concurrent sessions
Deep Dive on Facebook Algorithms
Beth Becker will share granular expertise about the inner workings of social media platforms, a topic she studies in depth as a consultant and owner of Becker Digital Strategies. Becker will discuss the ever-changing algorithm that functions as gatekeeper between the messenger and their potential audience. How does it work and how can labor communicators outwit it – or at least make strategically calculated moves in this high-stakes, virtual game of chess? Bring your curiosity and listen in.
Producing Accessible Multimedia
Evolving with technological innovation, labor communicators now produce much more than print newspapers. Videos are especially effective to reach younger workers, but many unions are not maximizing the reach of their videos and other multimedia. Subtitles and other enhancements can ensure that electronic media is widely accessible to people with disabilities. AFL-CIO senior digital strategists Caleb-Michael Files and Kate Hilts will teach techniques to produce accessible multimedia that brings the message to the masses and includes all workers in our essential conversations.
To Podcast or Not to Podcast, That is the Question
165 million people in the U.S. have listened to a podcast, 32% of Americans are monthly podcast listeners, and 22% listen to podcasts weekly. The Labor Radio/Podcast Network contains a growing list of nearly two dozen labor podcasts. Podcasts are inexpensive and relatively easy to create, but are they really right for you? Chris Garlock, host of the Labor History Today podcast, WPFW's Union City Radio, and Your Rights At Work, explores the many pros and cons of podcasting.
Peer-to-Peer Skillshare
Executive Council members Chelsea Connor and Marci Rosenblum are holding office hours for attendees to drop in and receive guidance about strategic labor communications in general or a specific project on your mind. Bring questions and get feedback about how to most effectively resolve a problem, package an issue, communicate a message, and write/produce results-oriented labor communications.
11:30 a.m.-12:15 p.m. Business Meeting and Officer Elections
Members are invited to run for office in accordance with the ILCA constitution. File your declaration of candidacy by Nov. 12.
12:30-2:30 p.m. Labor Media Awards Ceremony and Luncheon
Find ILCA on Facebook and Twitter and tag your convention posts #ILCA2019 to share your experience.
Guest Rooms

On-site at Tommy Douglas Conference Center, 10000 New Hampshire Ave., Silver Spring, MD 20903. Regional airports are Reagan National and BWI.

• $179 single (one king or queen bed, one guest)
• $269 double (two queen beds, two guests)

Room rate includes:

• Daily breakfast and dinner, both in the dining doom
• Wifi
• Access to fitness center, lounge, recreation room, business center and self-parking

Room Reservations

Call (240) 645-4000 or email guestservices@tommydouglascenter.com and refer to the "International Labor Communications Association room block." Please indicate arrival date, departure date, bed type preference (if any) and any special guest room needs at time of reservation request. A deposit equal to one-night's room rate is due with each reservation. Failure to cancel a guaranteed reservation at least 48 hours prior to arrival of the reservation will result in forfeiture of advance deposit or one night's room and tax billed to the credit card or master account.

Convention Registration

Just a click away right here.

Sponsorship and Journal Ads

Journal ads can be purchased on the registration form or individually here.

Introducing the ILCA Podcast
We interrupt your regularly scheduled programming to announce that ILCA is now podcasting. Untangle your earbuds and tune your 21st-century radio to our podcast, featuring interviews with award-winning labor communicators.
Our first guest is John Perkinson, ILCA Executive Council member and winner of the 2018 Max Steinbock Award. Perkinson authored Flying Heroes: ALPA Pilots Deliver Aid to Hurricane-Ravaged Puerto Rico. This piece combined insightful reporting on a timely, life-or-death issue with dramatic photography, epitomizing the best of labor storytelling. Hear the backstory of this compelling report and more insights in Perkinson's interview with ILCA President Lisa Martin.
Perkinson has been an Air Line Pilots Association writer for more than 20 years. He produces his award-winning work at the union's office in the Washington, D.C., area.
Find our podcasts on PodBean, iTunes, and Google Play Music. Stay tuned for more episodes coming in the summer.
From the President's Desk: ILCA in 2019
ILCA is deeply grateful to the active members who strengthen our organization with their dedication and ongoing participation.
Propelled by our engaged membership, we have a lot of ambitious plans for 2019.
We're launching a peer-to-peer support program to enable members to seek and share skills and guidance. Executive Council members will be available to advise on newsletters, social media, and other communications materials. If you can't wait until we formally launch the network, email members@ilcaonline.org and we'll begin the matchmaking for you.
We're launching a podcast. Send in ideas for guests and topics.
The annual Labor Media Awards contest opens in the spring and we're planning an inspiring convention for the fall. Save the date for the week of Nov. 11 and please give input on the location.
In solidarity,


Lisa Martin
President
Creating Social Media Graphics